To emphasize most valuable:
Excerpts from our services
Management plays:

* Communication and Synergy
* Know-how and to know- to be
* Team efficiency
* Communication and Reactivity
* Learn how to progress in a team
* Co-operation and Competition
* Music softens behaviour
* Create together
Rallys, Raids, Treks:

* North Thailand rally.
* Jeep Safari's raids, elephant, rafting,
* Inhabitants raid (ethnos groups).
* Thailand inhabitant Rallies in the bush, in Quad.
It is in the action that the team's unit is forged.
* Standard behaviour plays or the humour effect.
* Theatre apostrophes or icebreaker effect.
* Plays to measure or the mirror effect.
* Play shows creation…and more.
* Olympiads (mixing sporting, intellectual and play tests).
* Rafts building or experiment collective intelligence.
* Murder Party.
* Treasure huntings, or other strange themes.
* Ingredients: culinary experiment.
* Inflatable structures (human baby foot, mechanical rodeo, sumo…).
* Live water: rafting, canoeing, kayak, Jet Ski…
* Sea: Jet Ski, catamaran, water-skiing, diving…
* Country sites: VTT, climbing, speleology, course ventures, tree climbing. (Monkey bridge, cobweb), excursions…
* Mechanical sports: carting, quad, 4x4, monospaces…
* Feelings: Parapente, ULM, parachute jumping...
*Thailand discovery (or nearby countries "might combine").
*Cultural rallys.
*Trek playing…
*Oenology, gastronomy, ethnic groups visit, jungle discovery…
*Canoe, cruising, islands paradisiacal visit, bicycle treks…
*Temples visit, museums…
* Thailand, Laos, Cambodia, Vietnam, Myanmar.
* Movies, fun fairs, disco, bars, circus, pirate, TV...
* Humour, defies, mysteries, futurists, sport, Sosies ...
Team-Building to succeed together!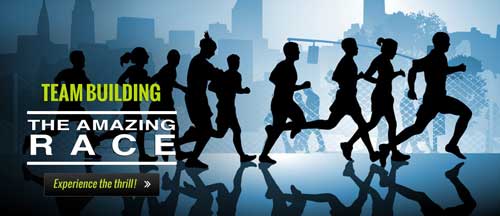 Our services, conceived to favour your Company' values penetration, and appropriation, work metaphors inspired by real problematic that are yours, and to messages you want to forward.
They put participants in a position to be able to actively go thru Management pictures that you want to animate.
We work with Managers & their staffs to give them the opportunity and motivation to work better together, so that everybody in your Company or within your customers will realize its benefits.
© 2018 Copyright Thailand-circuits.com