A well known corporation presenting guarantees:
An international company with the Thai license under Asia Sensations travel Group: T.A.T (Tourism Authority of Thailand) No 34/01616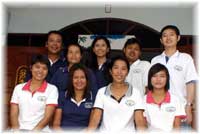 Member of the ATTA (travel agent association in Thailand) Member No 02855
Asia Sensations Travel Co.,Ltd is also the ground handling for many local and oversea agencies. A Belgo-Thai corporation created in Phuket 10 years ago, mainly working as an inbound Travel, for groups and incentives in whole Thailand.
Our multifunction agency also works as a tour operator and travel agency; we organize seminaries, honeymoon and adventure travels for groups or individual travelers in the whole territory of Thailand.
Our experience offers a perfect knowledge of Thailand, its activities and hotels capacities, its novelties. Moreover, the company has an excellent reputation and a really good image in the local tourism.
We have the help of a law office of international rights, in Phuket (Thai lawyer who speaks English).We also possess all the required insurances for our company and employees. They all are socially covered which is very rare in Thailand except in the big companies.